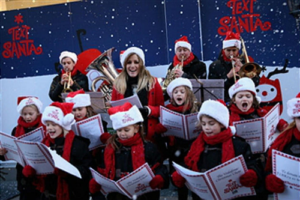 ORIGINS of Your Favorite CHRISTMAS SONGS
 Newly Expanded – The stories behind who wrote 58
of your favorite holiday classics
   We hear them every year. Most, we know all the words to and have sung since we were children. Christmas songs have become so ingrained in our memory that we never think about or wonder how they came to be such a natural part of the Christmas season.
   It's an interesting mix of traditional hymns from the middle ages to pop songs from America's favorite singers.
   We dug down deep to find how 58 of the most beloved songs came to be such a major and emotional part of our personal lives and culture, adding a few new ones each year… starting with "Angels We Have Heard On High," and "All I Want For Christmas."


     "All I Want for Christmas Is You" is a Christmas song by Mariah Carey. She co-wrote and co-produced it with Walter Afanasieff for her fourth studio album and first holiday album, "Merry Christmas" (1994). Columbia Records released it as the lead single from the album on October 29, 1994. The track is an uptempo love song that includes bell chimes, backing vocals and synthesizers.
     It is Carey's biggest international success, topping the charts in twenty-six countries including Australia, Canada, France and Germany. In 2019, it topped the Billboard Hot 100 for the first time, 25 years after its original release, thus breaking several records, including the longest trip to number one.
     With an estimated sales of over 17 million copies, it is the best-selling Christmas single by a female artist and one of the best-selling singles of all time. By 2017, it had reportedly earned $60 million in royalties.